My son & I have embarked on a epic trip across the west, exploring the wilds of Wyoming, Utah, and Los Angeles. This is a record of our journey. We have a page for text, pictures, and videos.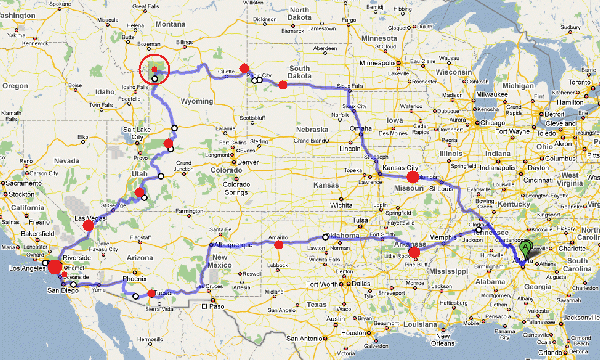 Red circles are places we stayed.
Outbound | Yellowstone | Utah | LA | Homeward
Day 1

Cumming to Columbia MO

660 mi

We left an hour or two later than I planned but I didn't mind as I knew that the extra time let me pack properly.

We were in and out of drizzle all day with only a bad wreck in Chattanooga to slow us.

We stopped to get Griffin's picture with the Superman statue in Metropolis IL. Now that I and traveling with someone other than ThinMan I am trying to get more pictures.

We saw the St. Louis Arch and Mississippi @ supper time and made it to Columbia before dark.

I let Griffin skate in the overflow parking lot for a half hour. I think it is important to give him time to play.

Day 2

Columbia to Kadoka SD

735 mi

We rolled on Memorial Day. It was drizzly through Kansas City. We saw the stadiums then crossed into Kansas and up past the airport to give him another state.

We hit clear weather and left the traffic behind in Iowa.

We crossed into Omaha and had a picnic in their riverfront park. Griffin got to skate there.

We hit the Corn Palace in Mitchell @ 5:00. It was open so we went in. It is an arena that was built for some farm expo. They decorate it with murals made out of Indian corn ears. It is corny, but cute. I always stop.

A storm front rolled in a dumped a ton of rain on Mitchell flooding the streets. We gassed up and waited out the worst of it in a parking lot. Once the squall line passed we hit the road again. It was colder and real windy.

Kadoka is a town of 700 on the plains near the Badlands. We saw a horseman along the main drag. The motel was an old travel court. Griffin thought is was cool. Very '50s. We had Internet access so I got maps of the routes, etc.

Day 3

Columbia to Kadoka SD

We woke up in winterish weather in Kadoka. Griffin wanted to sleep in so I promised him breakfast at Wall Drug if he got up.

Wall Drug is a classic piece of Americana. The druggist in Wall, SD started offering free ice water to travelers on the way to the Black hills and saw his business skyrocket. He put billboards miles away. It has grown to cover 2 city blocks with restaurants, grills, museums, a bakery, and every trinket and souvenir that you can think of. Griffin was in heaven.

We had buffalo burgers for breakfast. He had the free ice water and I had the nickel coffee.

I let him window shop while I got caffeinated. He found an ocarina that he wanted. I knew that meant 1000 miles of whistling but I got it anyhow. I'm having so much fun that that won't bother me.

We made it to Mt Rushmore. It is nice, a must see, but doesn't rate to high on my list. Griffin was more impressed with a chipmunk than the statue. We did see the movie on the making of it so it was educational.

As we headed for Devils Tower I saw some teenaged bighorn sheep on a side road. We pulled over and watched as they crossed the bridge. I made Griffin get out so I could get his picture with them. One started running towards him but veered off. As we left we got within 3 feet of them.

We saw lots of turkeys. As we were passing the lake from National Treasure 2 we saw a turkey crossing the road at a crosswalk! I didn't get the camera out fast enough but it cracked us up. We later saw a prairie dog do the same thing.

We stopped in Deadwood and I let Griffin skate in an empty parking lot. I realized I should have taken a picture of him skating in every state.

We made it to Devils Tower by 4:00. We stopped at the prairie dog village and then went to the camp ground. Griffin picked a spot under cottonwoods along the Belle Fourche River and beside the prairie dog village. It was just turning spring and the birds were real active. We saw Baltimore orioles and goldfinches.

At sunset we drove to the backside and started seeing a ton of deer, both whitetails and mule deer.

We cooked chicken soup then slept under the stars. It was perfectly clear with a thin crescent moon. Every star was out but I didn't see any shooting stars.

I woke up freezing. It was 47 degrees and felt like 27. I covered Griffin with my blanket when I went to the rest room. When I came back it had an iron grip on it so I slept in the car from 3:30 to 5:00. I got up at sunrise, boiled some coffee and tried to be warm. Griffin wasn't cold. I think it was the extra blanket.

Day 4

Devils Tower to Mammoth WY

We spent a couple hours at DT with the prairie dogs. Even though we had 400 miles to cover it is too hard to leave them.

If you rate parks and scenic wonders like baseball with majors, AAA, AA, and A and I rate DT a AAA rating. It is better than some of the major parks. It isn't crowded, it is out of the way in a great place, it has deer and prairie dogs, and it is geologically a total freak! God was in a good mood when he made it. It was probably the same day he did giraffes and platypuses.

We started seeing pronghorn antelopes, or "ants", when we left DT, mostly in pairs or small groups. We did see a herd of 100 in the outskirts of Moorcroft. They were crossing a man's driveway right by the road.

We had breakfast at my old McDonalds in Gillette then drove to Ranchester to make the northern crossing of the Bighorns on Rt 14A. It has a tremendous number of switchbacks to get up the face. The scenery was frightening. Griffin was on the outside edge and didn't like it.

They had the strata marked along the road. The pre-Cambrian was on top, having slide over the younger stone.

We road the top of the mountain in snow fields for 15 miles. Griffin had never seen so much snow. I saw 3 elk crossing a creek. We stopped to skate at the pass @ 9400 feet and to eat snow cones.

We dropped out into the desert and headed to Lovell and Cody. I stopped at a local grocery in Lovell to get bread and a six pack. We had spent so much time on the trip I decided to hit a small diner or regional chain for dinner. We didn't see any before Cody. When we were in old downtown Cody I saw a neon sign that said Irma Grill that looked promising. We parked and walked up the block.

It was the Irma hotel. The grill was the old saloon/dining hall with a stamped tin ceiling, an old bar, silver buffalo hat racks, and stuffed heads on the wall. After we sat down I saw the special of the day, prime rib buffet for $21.99 and $10.99 for kids. It was too cool to walk out so I looked at the menu and they had buffalo burgers for $10. I figured it was worth it to eat in an old hotel.

It turns out is wasn't just any old hotel. The Hotel Irma was built by Buffalo Bill himself when he founded Cody. It was the celebrity hangout for people going to Yellowstone. The bar was a hand carved cherry bar that Queen Victoria presented to Buffalo bill after a command performance in London. To make things even better Buffalo Bill was there. He was dressed in thigh boots with spurs, a vest and bow tie, and a beaded buckskin jacket. He had a real nice demeanor and wandered the room greeting guests. I got a picture of him with Grif in front of the bar.

We drove up the Shoshone River canyon towards the east gate of YNP. We saw 100s of mule deer in the fields and meadows.

In a tight spot in the canyon I thought I saw bigfoot or Chewbacca walking down the side of the road. It was 3 buffalo going single file. I told Griffin to look up from his game and he did, right when the first buffalo was right at his window, 2 feet away!

We got to the park @ 7:30. I spotted a moose along a creek within 5 miles of the gate. We headed up into snow and down along Yellowstone Lake. We had to drive the rest of the way in the dark. We came into a dark tunnel of spruce and a big bull buffalo was standing in the middle. He was hard to see but I was going slow.

We got our cabin @ Mammoth. I don't know if they were CCC cabins or army but they are cute, maybe 12x16 duplexes with 2 beds and a sink. We were right next to the bathhouse. We were too tired to do anything but go right to bed.

Day 5

Mammoth to Old Faithful

90 mi
then
96 mi

The hardest day's drive and only 100 miles!

I woke too early, worked on camera/computer stuff, showered, then laid down to rest. As soon as I was in bed Griffin woke and said "Let's get going" so we did.

We cruised the Mammoth Spring loop and saw a bald eagle over the town when we were checking out.

I took him to the north entrance and the 45th parallel but all he was interested in was getting back to snow to play. We drove to Tower, then to Canyon, then to Norris & Old Faithful, 90 miles total.

We stopped above Antelope Valley where there was still snow in a draw. He played for an hour while I scanned the valley for bear. I gave him a laundry basket to use as a saucer since we didn't think to bring a sled.

We crossed a mountain pass and he played some more in deep snow. Once he got cold he was ready for home.

We got stuck behind 3 RVs pulling SUVs so I pulled over to let them get well ahead. I was dead tired and was having trouble staying alert. The travel and poor sleep finally caught up to me.

I love the Gibbon and Firehole Rivers. Just perfect. As we headed up the Firehole towards Old Faithful (OF) we got stuck in a major traffic jam. One bright spot was the river beside us and buffalo in the woods. As we inched forward I saw that the jam was caused by a herd of buffalo that were using the road to move to the Madison Prairie. Two rangers on horses came up and started driving them up the road to make some progress.

It was the worst traffic jam I've been in in my recent travels. Griffin was complaining but I said that if you were going to be in a traffic jam it might as well be along the Firehole River waiting on buffalo.

We got to OF and checked in. The Lodge and the Inn both overlook the geyser. We arrived 10 minutes before a blast so we sat on the veranda and watched it. Not bad timing. Griffin wasn't as impressed with it as he was with the fact that he had a cell signal for the first time in 500 miles.

I drank a beer and took a needed nap while Grif texted. He woke me @ 4:30 and said he was bored. I begged for 30 minutes more. I grabbed 2 cups of coffee and we headed back to where we came to look for snow. I said I'd go if we could continue on to look for bear. We stopped at the Continental Divide for a photo op. It was Isa Lake that sits on the divide and drains both ways. We then did the loop around Yellowstone Lake to help achieve the goal of covering every mile in the park.

We were driving along the Yellowstone River when I saw a bunch of cars pulled over. I told Griffin that meant bear. We pulled in and asked were it was. I was across a creek valley climbing a ridge. I could see it flash white as it turned but Griffin had trouble seeing it. A man had a telescope and he let us see it. It was a mamma and baby! I'm glad the man had a scope so Griffin could see them.

We continued on a mile or so and found a snow bank to play in. Once he got cold enough we headed back.

Day 6

Old Faithful

Slept in to recover from the road. Even Griffin was beat. Got up around noon. Decided to drive to West Yellowstone and Idaho to look for snow. Crossed Continental divide into Idaho @ 7000 feet but no snow so we headed back.

We saw a bald eagle on a perch by a nest and a pair of ospreys. One dove into the Firehole River right by us.

We came back and watched a movie (Whale Rider – I slept). Griffin wants to go to snow so off we go.

Today turned out to be Bird Day. In addition to the eagle and ospreys, there is a immature whooping crane at the frog pond that is the run off from Old Faithful. It is a beautiful cinnamon color, redder than a wren or brown thrasher. I was given a book on whooping cranes as a child and always dreamed of seeing them but this was unexpected.

***Note: If whooping immature is white with just cinnamon head then this was a sandhill. If a whooper is solid cinnamon than this was a whooping crane.***

At one time the population dropped to 35 or 40. They all wintered near Corpus Christi Texas and they were afraid one hurricane could wipe them out. They started moving eggs into sandhill crane nests that flew to other winter homes. I read of a batch being lead to Florida with an ultra-light. This one is part of a flock that winters in Bosque De Redondo in New Mexico.

We headed to snow but I also wanted to see the Lamar valley so I drove past the snow to Griffin's disappointment and kept heading north. We saw a male prairie chicken doing a mating dance at the side of the road. It had it's tail spread like a peacock and had a pair of yellow throat pouches puffed up like balloons. (I looked it up and it is a blue grouse).

This was cool because when Griffin was born I told my wife that he didn't look like half lion-half eagle but looked like half prairie dog-half prairie chicken. Now we've seen them both.

The Lamar Valley is the American Serengeti. Tons of buffalo and elk, plus predatory wolves and grizzly. This was the only park of the park open when Amelia & I came that November but we saw everything including our "big scawy gwizzely bear".

When you see a crowd it pays to stop and look. We saw a adult bighorn ram with full curl close up. It was good for Griffin as he had only seen the teenagers.

Further up the valley crowds of photographers were staked out on key bluffs scanning and waiting for wolves and bears (animalazzi?). We stopped and saw a pair of black wolves through a scope.

Griffin still wanted snow so we turned around at Soda butte and went to the DunRaven Pass (8859 ft) on Mt. Washburn. I cooked supper in the moonlight on a snow bank while Griffin played in the snow. This late in the season it is more like a sea of snowcones. He could slide down a hill standing up as if he was snowboarding or skateboarding. He didn't fall or get wet. I was impressed.

We had Tim Hortons cappuccino and ramen noodles then I drove 50 miles through the dark while Griffin slept.

Day 7

Old Faithful

Griffin wanted protein, said he had too much boiled starch, so I took him to the breakfast buffet at the Old Faithful Inn. It was a great setting with the log cabin atrium and huge fire place. He is old enough to get charged the adult price, which was fair as he ate more than me.

Later we drove up to Firehole Lake basin and let Griffin skate the one-way loop road. He skated 1.5 miles before the slope got too steep. We saw the Grand Fountain geyser and the Castle geyser erupt.

I took Griffin on a walk up the Nez Perce Creek until we found a buffalo herd out in the wild. we watched for a while then headed back. I thought it was important to get off the road and into the backcountry. We didn't go far but were far enought that we were closer to danger than safety.

Day 8

Old Faithful to Dinosaur

We got up and loaded our stuff then headed out @ 8:00 AM. We drove through the southern part of the park into the Tetons. I saw Heart Lake that Barry Mac hiked around. We drove along a great river. I had forgotten how nice it was.

The Tetons were as impressive as ever. Griffin looked up from the Gameboy on occasion. After photos of the Jackson Elk Arches we headed through the Hoback Valley to Bondurant and Pinedale. It is a great valley, high plains surrounded by snow-capped mountain ranges.

We had lunch at the Stockmen's restaurant in Pinedale, then headed towards rock Springs. we drove through miles of empty plains without seeing hardly a ranch or oil rig. It is amazing how open and empty parts of America still are.

We stopped in McDonald's in Rock Springs, paid $3 for 2 hours of wi-fi, and paid my bills. what a great marketing trick. Even though they charge for the wi-fi you will still buy at least a coffee. If you are there 2 hours you'll buy a meal or a snack. I was glad to have the chance.

We headed south on US 191 towards Flaming gorge and Utah. this is a new "favorite road". Empty, majestic, subtly stunning. We climbed up a plateau and ran 100 and didn't see anything but nature. we dropped off the plateau into the Flaming Gorge and Utah. Once in Utah we climbed to 9,000+ feet into a spruce-fir-aspen forest with cool weather and scattered rain.

We stopped for subs and directions to Dinosaur in Vernal UT. We headed east and found Dinosaur NAtional Monument. My plan had been to tour the quarry and camp. I know the visitor center was closed but the quarry was closed also. We went to the campground in cottonwoods along the Green River and found a bunch of mosquitoes. I didn't have repellent nor netting so I told Griffin we would head out of the heat (hottest place so far) to the high mountains were it was cooler and less mosquitoy.

Halfway to the next mountain pass Griffin got tired and wanted to hit a hotel. I thought about how much easier it is to sleep with my Darth Vader breathing machine plugged in so we found an old motor lodge and spent the night. $60 well spent.

we watched Scary Movie 3 and Dodgeball and laughed our tails off.

Top | Outbound | Yellowstone | Utah | LA | Homeward

Day 9

Dinosaur to Bryce

We drove for miles through Canyonland. Every riverbottom and creek had nice farms, usually irrigated with those pipes on wagonwheels. We ran through desolate canyons and up over spruce-fir-aspen plateaus.

I loved every mile and every rock. Griffin was deep into the Gameboy. It was completely stunning and totally isolated. we hit Capitol reef, the Grand Staircase, Escalante, and Bryce.

By the time we got to Bryce we were beat. We had covered 400 miles on twisty roads through awesome canyons. Even I was canyoned out. I didn't feel like driving anymore so we took the park shuttle bus to give me a break. We were so tired we got out at one overlook, took 4 pictures, and got on the next bus. An outsider would think we were the worst kind of tourist but they didn't know just what we had been through.

I let Gman skate for a half hour to let me rest.

We needed a campground. I didn't want to camp at Bryce but push a little bit. Dixie National forest was on the next plateau and it has great scenery. I knew about it because Brad & I drove through it on the last road show and we had seen deer, porcupine, and golden eagles.

We drove into the forest, up on the plateau, to Duck Creek campgrounds. It was perfect, more deer than campers. It was crisp and fresh without being cold. I cooked a hot meal that really kept us warm all night. It was an Italian meal made with ramen noodles, a pepperoni stick, corn (blasphemy) and stewed tomaotes.

G skated in the camp for a while. I made him stop so the noise of the wheels wouldn't disturb the silence. We had a buck mule deer keep coming by. It was great.

Day 10

Bryce to Vegas

I sleep through the night without waking due to cold. The camp was even prettier in the morning light. The aspen were just leafing out and the light on them and the white trunks were outstanding. The grass was green and fresh, birds chirping, deer all around.

We drove off the plateau to Zion. Griffin had had enough of it although he liked the tunnel. It is a couple of miles long, curved, with windows every so often. My only problem was that we were behind 5 harleys with loud pipes that reverberated in the closed quarters.

I knew how to get Gman interested in Zion so I looked for a wash on the sandstone that he could skate on. We found a great one, a thin sidewalk of stone carved by rain running of a cliffside. We pulled over and got footage of Gman skating in Zion. After that he didn't think it was so bad.

We drove to Vegas as fast as we could as I was canyoned out also.

I wanted to do laundry and wash the car in Vegas so we would show up in civilization on the clean side. We had our worst meal of the trip at a Jack-In-The-Box but got directions to a laundry and car wash from an airman from Nellis. The laundry was on a rough side of town, drugs were being sold in the parking lot and a man broke into a truck and tried to grab a purse while we were there but I kept Griffin & the van in sight at all times. G didn't understand why I wouldn't let him skate there but I din't explain until we left so he wouldn't be scared.

We got cleaned up and drove the Strip in the daylight then went to the Luxor to check in. It is pretty cool, a big atrium and lots of action. We took the Inclinator to our room on the 15th floor. Because the walls are sloped they can't use an elevator but have them move at an angle. Someone had dropped a paper at the door and it slide from left to right as we rose. It wasn't always noticable but when you noticed it, it was weird. Our room overlooked the pool and the mountains to the west. The outer wall was heavily sloped.

We showered and then went down stairs and eat at McDonalds in the casino. Griffin wanted to go sightsee but I was tired from driving and camping. I told him I needed a nap. If I slept for an hour or so I would have the energy to tour plus it would be dark and you needed darkness to fully enjoy it.

We headed out, taking the tram to the Excalibur, then crossing the bridge to New York, New York, and the MGM. We caught the double-decker bus that runs up the strip. They have a 24 hour pass that let us ride as we needed.

We stopped at Paris so Gman could see where Robbie Maddison jumped the Arch on his Red Bull motorcycle on New Year's Eve. It is amazing that some one would try and even more amazing that he succeeded.

We caught the bus to The Venetian and walked around. I haven't been to every casino but it is my favorite. Afterwards we crossed to Treasure Island and caught the bus back to Luxor. We saw the Mirage volcano and Bellagio fountains on the way. Griffin was bummed out because he wanted to keep going and go to a fancy mall with Gucci, Hugo Boss, and "other stores they don't have at the mall" but I explained it was midnight and they were closed. He was asleep when the bus hit Luxor.

Top | Outbound | Yellowstone | Utah | LA | Homeward

Day 11

Vegas to Los Angeles

The only hot weather we had was in Vegas and going to LA. Once we got to LA it was overcast and cool, only 68 degrees.

We slept in a bit and stopped and the Welcome to Vegas sign. There were 2 stretch limos of asian tourists getting pictures with Elvis. I got a quick one of Griffin and Elvis before heading out.

We stopped at the GoldStrike, one of the state line casinos, for lunch. We got a $5 prime rib buffet that was one of our better meals. We were 10 minutes early so I had Griffin stand along the wall while I hit the nickel slots. A guard came up and made him stand at the door so I quit playing to join them. They lost a good customer. I had blown 50 cents and was ready to blow the whole dollar but I cashed in and kept my cash. Greiifn ate more at the buffet then I did.

We stopped in Baker, home of the World's Largest Thermometer, for coffee and a ThinMan photo op. It was 91 degrees, our hotest.

We continued to Barstow to jump on Route 66. We went to the old train stationas I read it was a Harvey House. Griffin skated on the railroad platforms and on Rt. 66 there. It was great. I love railroads and trains. We continued on Rt. 66 to Victorville then got on the highway to drop into LA.

The GPS systems for cars are amazing. I can't imagine driving in a city without one. I named ours ANA, the Animated Navigation Aide. It is great with a split screen and diplay of exit ramps. I had no problem getting around in LA, I let it all to ANA.

After checking into the hotel we went to our first skate park, Volcom in Costa Mesa. I spent a lot of time reading the GPS manual to figure out how to get better performance.

Griffin hung out with the other skaters. There was an old man (my age) with white hair, a 30-something, and Griffin, taking turns on the runs. I was very impressed witht he sk8rs. They were polite, mannerly, took turns, and watched out for each other. If someone screwed up and crossed paths with someone they were very apologetic. Not the image the media presents.

Day 12

Disneyland

I let Griffin sleep in until 8:00 to recoup from travel. Normally he is our early riser but his sleep pattern is changing as he reaches teenagedom. Amelia always sleeps in but on the road I could get her moving @ 6:00 AM and she would sleep in the car. Griffin wants his sleep in the bed.

Our hotel was 8 miles from Disneyland so we took surface streets. We parked in the new parking garage and caught the tram. It was a Thursday, cool and overcast, with school in session, so it wasn't very crowded. The majority of people were graduating junior high students who were having a graduation party that night. This day the park closed @ 9:00 but the next day started the midnight closing with fireworks so I think the locals were waiting until they could get more hours for their money.

We headed for Frontierland and the Big Thunder Mountain roller coaster. We hit the Jungle Cruise on the way. We hit the Thunder. I rode it once then sent Griffin on his own. We hit splash Mountain next, doing it twice. I made Griffin ride the Pooh and the Honeypot ride. He was uninpired by the kiddie ride but had something to make fun of. We hit the Haunted House and Pirates of the Caribbean before hitting Space Mountain.

The ride lines were short, even at noon, except for the Indiana Jones adventure. We got in a line that was supposed to take 35 minutes but it didn't move. After 45 minutes they said that the ride kept breaking so he split for Space Mountain.

Space Mountain had the longest line but we still walked through half of the line queue before coming to where the people were. We rode it together. Griffin loves those rides but at my advanced age I'm always glad to see them end. I wanted a nap so I sent Grif to ride it again so I could sit and rest but he showed up after 5 minutes and said the line was too long. We hit the Matterhorn next.

We had our most expensive meal of the trip at Disneyland, $35 for 2 slices of pizza, 2 cokes, and a side salad. We were starved and it was worth it.

We rode the Matterhorn and then Griffin said, at 4:00, "can we go skate?". I said that I wouldn't leave yet as we still had things to do, but I wouldn'r mind leaving a little early to skate since we were seeing what we needed.

We rode the train, rode Small World, a required ride. I sang it the whole time, just to bug him.

We left @ 6:00 and drove the the Volcom park in Costa Mesa to finish the day.

Day 13

Skate Parks

Friday was our Skatepark Day. We visited 4 parks and Griffin skated for 8 hours!

We started at the Etnies Park in Lake Forest. They were strict about helmets and pads so we only stayed an hour. We stopped at the skate shop across the street. They had shoes on sale for $20 so I got him some nice suede Vox to replace his Vans that had a big hole in the toe.

We went to Laguna Hills next to a park by a high school. It had nice shallow bowls. Grif skated for 4 hours. There were a few kids skated that shared tips with Griffin. I've been impressed with the caliber of skaters. They are polite, nice, helpful, and courteous to others. If someone cuts someone off they are very apologetic.

Laguna Hills had some BMX riders who were impressive. On was a developer for BLK MRKT bikes. He had a 26" or 28" wheels instead of 20" wheels.

We next went to Mission Viejo to a smaller park on a ridge. It had mostly younger kids who were impressed with Gman's skills. After an hour it was back to Volcom to finish the day.

Day 14

Hollywood

Griffin slept in after 8 hours of riding. I worked on the blog.

We headed to the Santa Ana park and rode for 2 hours to start the day. We probably ate at In-N-Out Burgers. We've been eating 2 meals a day there (more on that later). Griffin really like Santa Ana. It had kids of his age and skill level.

I bought Grif a 6 pack of Gator ade and the rest of the day was spent looking for rest rooms and bushes.

We drove to the Hollywood sign and got a video of him skating near it. Then we hit Beverly Hills, Rodeo Drive, and the holly wood Walk of Fame. We filmed Gman skating past the stars. We saw Chuck Norris, Tom Hanks, Donna Summers, Woody Woodpecker, Friz Freleng, and others.

We headed to Santa Monica to skate. We found a great park that was closed so we drove to Malibu and let him skate on the bike path along the beach. We say the Santa Monica Pier that was in skate videos.

Day 15

Train Day

I wanted to have Griffin ride a train. One original idea was to buy an AmeriRail pass and spend a month riding the rails seeing the country. I figured the ride along the coast to San Diego would suffice.

We caught the 10:01 Metrolink from Anaheim Canyon to Oceanside. This took us through Orange County suburbs to the coast then along the coast through Camp Pendleton for an 1 1/2 hour ride.

We walked 3 blocks to the beach and Griffin skated around. We weren't there more than 15 minutes before a rent-a-cop hassled Griffin for skateboarding even though I looked for signs before letting him. It put a damper on the day so Griffin wanted to leave. It was too cold to swim (68 and cloudy).

My original plan was to hangout all day and catch the 4:30 train home. Trains were infrequent on sunday so we had to wait until 2:00. Griffin skated a bit on the platform but was bored. We went to get something to eat and someone said there was a Burger King around the corner. I figured that would kill the hour. It turned out to be at the bus station, and the worst meal of the trip. BK are bad anyhow but put it in a Greyhound station on a lazy Sunday and it gets bad. Griffin decided he wanted to look for a skateshop so I found one a half mile away and we decided to walk. We passed a dozen local dinners including a brew pub that would have been better choices had Griffin been willing to give the town a try. We found one, plus a vibrant youth scene. I bought t-shirts for my nephews and bought the blue skull shirt Griffin wears in every remaining picture.

We caught the 2:00 train to LA. It is a nice double-decker. We were having fun until I saw the Anaheim Angel stadium and realized that we were on the wrong train. We got off at the next station to figure out what happened.

LA has lots of train lines but assumes you know what you want and they don't post route maps and have very limited schedules posted. There are two trains that run from Oceanside to Orange county but one splits north to San Bernadino and one goes straight to LA. We needed the SB one but boarded the LA one. Griffin was real happy at this point. I called a taxi but it was going to be $35 dollars to go the 8 miles we were off. I decided to wait until the next southbound, go back to the split and catch our original 4:30 train out of Oceanside. I couldn't find a schedule so we jumped in the next rain which happened to be the Amtrack to San Diego. The young conductor was willing to kick us off at the next station but I convinced him to let us go 2 stations to Santa Ana so I could get to the train I needed. He let us ride and we caught the train I had originally wanted, the 4:30 out of Oceanside, to our station.

I enjoyed the day but Griffin thoought it was a waste since he wasn't skating. we finished with a skate @ Santa Ana before heading to our camp site.

One bright spot... I gave Gman a penny and two nickels to put on the track before we left. When we came back we recovered them as souvinirs.

Top | Outbound | Yellowstone | Utah | LA | Homeward

Day 16

SoCal to Tucson

After the train and Santa Ana skating we headed to San Juan Capistrano to camp in the hills above town. We got there just before the park closed. The lady said it had been packed for the weekend but we were one of three sites for that night.

We were under live oak trees on a bluff over a dry creekbed. It was peaceful and quiet with a full moon rising. I set up our tarp and Griffin was out cold. I sat and listened to the owls. I kept hearing rabbits in the brush and had to keep checking them out because there were rattlesnake warning signs all over the campground. Pets are not allowed there because mountain lions keep eating them.

The campground was even prettier in the morning. Beautiful hills, live oak trees, dry river wash, and animals. It looked a lot like the opening scene of M*A*S*H. Lots of rabbits and a spotted skunk. I would have loved to stay for a couple of days.

We headed to the San Clemente Skatepark which was up on a ridge. We got there @ 8:30 AM, the second person of the day. Griffin put in an hour before we left. As we were leaving I pointed out that they were smart enough to weld basic skateboard sockets to chains to make them available to the public. Griffin said he needed to loosen his trucks so we turned around and he made them squirrelier. I let him ride for another hour since it was running so smooth.

We headed down to San Diego to catch I-8 to head to Tucson. We hit our last In-N-Out Burger for lunch, then headed over the mountains towards Yuma. The hills east of San Diego have rounded boulders that are cool. At least Brad & I were impressed when we crossed it last Fall. Griffin was less impressed. He kept complaining because I'd go "Griff, look, a rock!" every half a mile.

We skirted the Mexican border, saw the border fence, and were stopped by 3 or 4 border patrol traffic stops. The Imperial Valley of California is a major irrigated agriculture center, with lots of hay baling going on. It was definitely summer there with the grass turning tan.

We took the Ajo cutoff in Arizona to drive through a more remote section of the Sonoran desert and to see saguaro cactus. Griffin was unimpressed but that leg was for me. We stopped at a cactus or two but I couldn't convince him that they were 40 feet, not 12 feet.

We got to the hotel after dark and went to the pool. It was 60 degrees and the outdoor pool was freezing. Fortunately I hadn't gotten in when Griffin decided it was too painful.

Day 17

Tucson to Amarillo

775 mi

I had to get Griffin to experience Saguaro cactus. I wasn't satified with his reaction.

We headed to the eastern section of the Saguaro National Monument. They had a 8 mile loop road that was smooth blacktop so I let Griffin skate it. I got great shots of him among the cactus.

It was close to noon when we finally got back to the highway. It was our latest start on our longest day but it was worth it for those cactus. If you haven't seen them in the wild, you need to. They are as important as seeing buffalo in the wild.

We took a shortcut from I-10 to I-25 via Hatch NM. Hatch is the "Chile Capital of the World". I bought a garland of dried chiles and garlic for my sister and her husband. We also bought spray paint for the Cadillac Ranch.

Griffin got real tired on the leg heading north through New Mexico. He sat in the back and watched movies but was getting impatient. I was in a zone, really covering the miles, but it was hard on him. We made it into Amarillo @ 2:00 AM although that was midnight compared to when we left. That is only 12 hours of actual driving.

He fell asleep in the elevator. I hit the bed hard myself.

Day 18

Amarillo to Little Rock

605 mi

We left the hotel @ 8:30 and drove back west to the Cadillac Ranch. Griffin was still groggy and didn't want to get out. An older couple from Louisiana pulled up to take pictures. I told them they could go through the gate and see it. I offered them our spray paint so it wouldn't go to waste. As they opened the gate I decided to join them, after all, we drove the whole way. I don't care how many times I see it, it is still cool. As we reached the cars I looked back and Griffin was coming. He decided to join us.

We left as the rain came and I raced the rain all morning. We could see lightning in the West and to the South. I got drizzled on but stayed ahead of the worst of it.

We hit Oklahoma City and Cattlemen's Steakhouse. It is a great place for steak. I've taken Amelia and now Griffin has gone. We had great ribeyes. Gman drank too much Sprite so I got a doggie bag for a roll and the steak which he ate for dinner.

One of the waiters told Griffin about a local skatepark so we took a visit. It is the Mat Hoffman Park, named after BMX great Mat Hoffman from the area. Gman skated until the storm hit. I ran in it until Arkansas. We stopped in Henryetta OK to get coffee during the worst of it and saw the whole city lose power. I wanted to use an ATM but they all rebooted and didn't work.

We made it to Little Rock by 9:00 PM and were met by my sister and her two boys who joined us for a swim.

Day 19

Little Rock

Little Rock was hard on me for two reasons. One, I was tired. Two, I had to balance my Mom and the boys who were at the opposite ends of the energy spectrum. If I was at the boy's pace my Mom got left behind. If I was at my Mom's pace the boys were bored.

We took the boys to the Kanis skate park and my Mom & I sat in the car and talked. We next went across the river to the Riverview skate park and skated until the boys were hot & tired. We went to Whole Hog BBQ and ate. I like that place because they have 6 different sauces in a six-pack on each table. It is also big so we don't get cramped in.

We let the boys skate in the parking lot then headed back to swim. Becky showed up and we went to Luby's for dinner. We dropped Mom off then headed back to the Riverview skate park to skate until 10 or 11.

Day 20

Home

Homeward bound was a flat out run to ATL on the interstates. There are shorter ways on backroads but I stuck to the freeways and just hauled tail. We stopped in Dalton to wash the car. We got behind two guys doing their Friday night detailing on their pride & joys but I waited because I didn't want to look for a second car wash. We worked hard on getting the bugs off the bumper and cleaning the rims.

Once on the road we hardly stopped. I was limiting my coffee so I didn't need to stop much. We pulled in around 9:00 and were glad to be home.

Day 21

Recap

More to come...